ConsultationNZ™, in conjunction with Exclusive New Zealand Holidays Ltd and tourwithusnow Ltd, can provide you with tours of New Zealand and Australia. Tours could be tailor-made to suit your available time and interests, or you may choose to join one of our existing itineraries.
Whatever your needs, we have a solution.
To get more information, please contact ConsultationNZ now, or click here for a tailor-made itinerary, or here to see existing itineraries.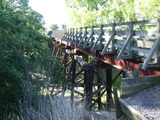 Bridge on Otago Central Rail Trail
© Estelle Hunt